Blood:Water for The Tennessean: Accountability for Clean Water Starts at the Local Level
Jake Smith, our executive director, recently shared his opinions on the water crisis Jackson, Miss. just experienced and how systemic breakdowns and lack of community involvement lead to these types of failures.
Read more here about solutions and steps we can all take to ensure these situations don't happen again.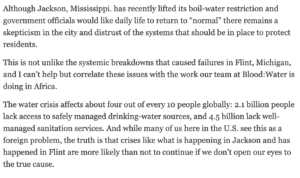 We're Proud to be a part of Catalyst 2030 We've recently joined Catalyst 2030 to support their Africa Forward goals that so closely align with our own mission, vision and values. The regional goals for Africa…
Written by Dan Haseltine Since 2000, 1.8 billion people have gained access to basic drinking water services, however more than two billion continue to lack safely managed services. Our work partnering with community-based organizations in…