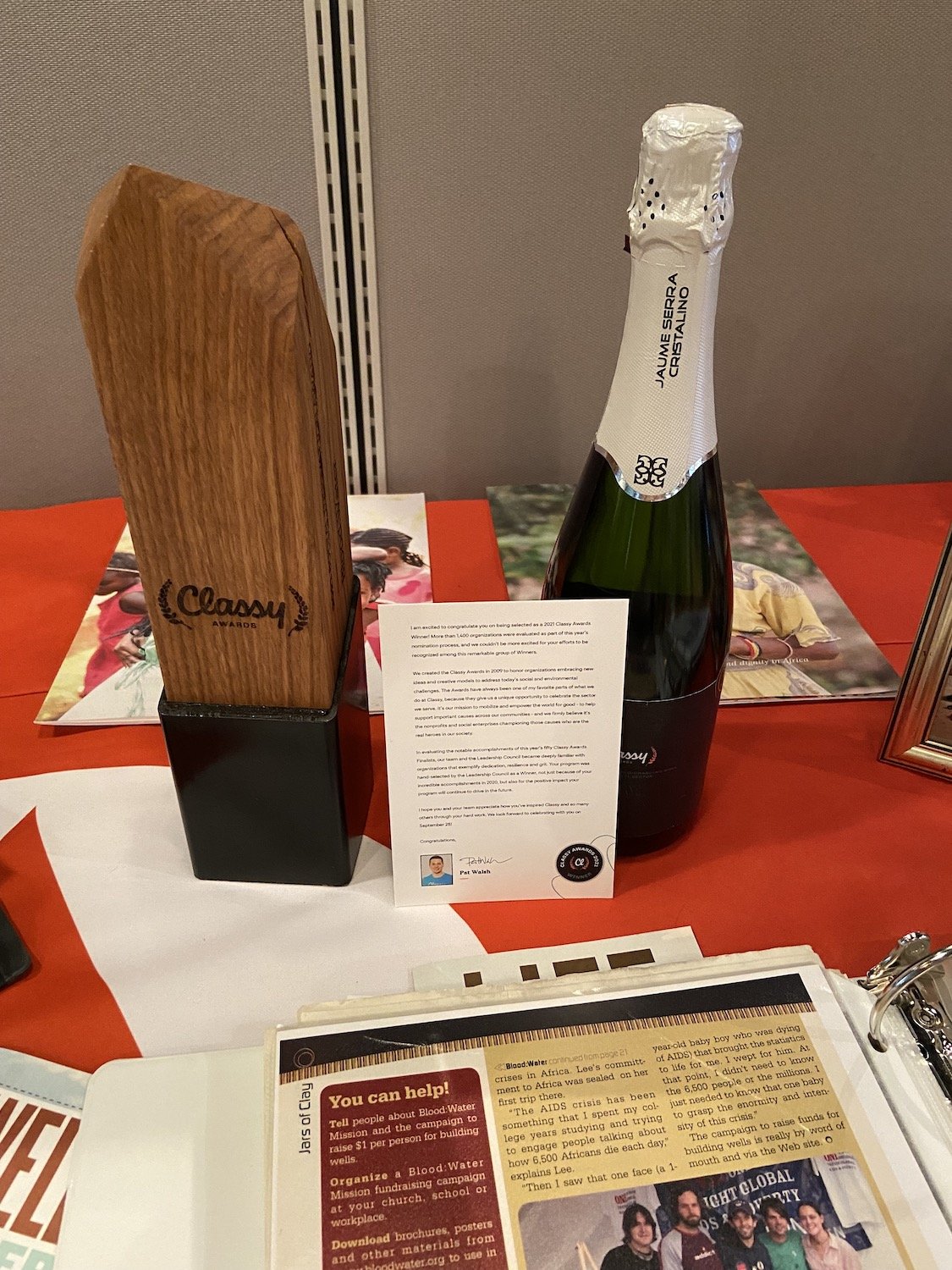 We are thrilled to announce that out of the 1,400 nonprofits and social enterprises nominated, Blood:Water is a 2021 Classy Award Winner in the Social Innovation category! This year, 13 awards were distributed across four categories: Social Innovation, Adapt & Overcome, Lifetime Achievement, and People's Choice. We are so grateful to be recognized by Classy and that our partners' work is being honored in a way that they truly deserve, as the incredible change-makers they are.
If you have given to Blood:Water before, you may already be familiar with Classy, an online giving platform that enables nonprofits to connect supporters with the causes they care about. This is the 8th year that Classy has held their Awards to honor today's most innovative nonprofit organizations and social enterprises and celebrate the world-changing work of the social sector, and the awards have become one of the largest social impact awards in the country.
Winners for the social innovation category were determined by the Leadership Council, a prestigious group of social sector leaders with representatives from organizations such as Feeding America, Jane Goodall Institute USA, Microsoft, Salesforce.org, Trevor Project, City of Hope, and the Bill & Melinda Gates Foundation.
Our Winning Program
We gave an overview of Blood:Water's winning program when we announced that we were finalists for the Classy Awards, but to recap, we were recognized for our WASH program (Water, Sanitation, and Hygiene). Communities in sub-Saharan Africa need all three areas of WASH for one to be a success, and we work with local partners to provide access to clean water through a wide range of technologies, based on what will be most effective in the community.
Watch the video below to see what representatives from the Bill and Melinda Gates Foundation, Charity Navigator, and Oxfam America had to say about our winning program:
With each clean water project, our partners provide access to sanitation, which is vital to preventing recontamination of a water point and waterborne illness. Improved hygiene practices are driven by interventions at household and community levels, as well as through trainings, committees, and mobilization of community health workers. We ensure WASH standards are applied in all of the work we support. Because our partners spread information and get their communities involved, this means that these health practices will change lives for generations to come.
If … we partner with local organizations in sub-Saharan Africa who are already engaged in the work of clean water and WASH solutions,
Then… we can make truly sustainable change with the knowledge that the real experts are leading the fight.
If… we support initiatives that engage members of the community and provide education on proper hygiene and sanitation practices,
Then… water points will stay clean and communities will be able to thrive for generations to come.
If… children, women, and other family members no longer have to spend large amounts of time gathering water that may also be unsafe to drink,
Then… children can stay in school and adults can spend their time working for their families' futures.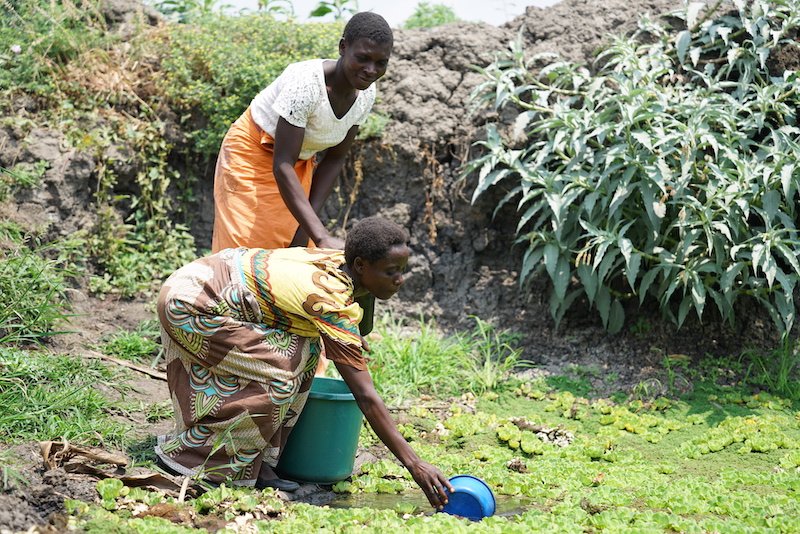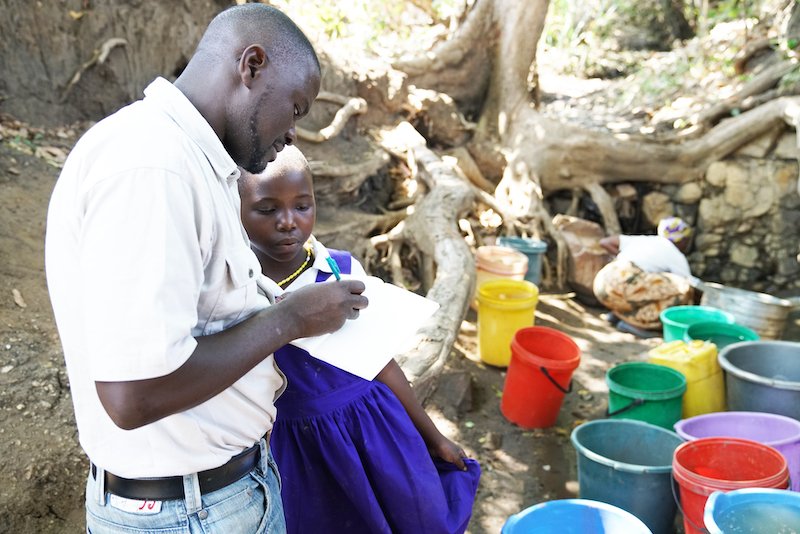 ---
Quotes from our beneficiaries
"Previously before protection, our water was always dirty with algae that I always had to filter it first before using it for cooking, bathing, washing and any other domestic role. In fact if you bathed without filtering it, the algae would remain stuck on your body."
– Lucy from Uganda, impacted by our partner PaCT
"If it was not for [Blood:Water's local partner] DOW, I would walk 30 minutes to a river which usually dries in March to fetch water for drinking and cleaning together, with cattle and livestock. In the months of March to June or July, I had to walk two hours to a relatively all-seasoned river… which was usually polluted and contaminated by the kerosene and oil from the generators used to pump water for irrigation… Diarrhea used to be common in the village including my family; my kids used to suffer a lot."
– Mary from Ethiopia
"Before this water and sanitation project, I was dirty. My household surroundings and my family as well were dirty. This is because [we] had no hygiene facility… My nearest latrine was the bush close to my house. My children could go 3-4 days without a bath, and I rarely washed them. To me there was nothing wrong because most of the families in our village community used to practice the same behavior… My children and I often had diarrhea and it was the same thing for the neighbors."
– Sarah from Malawi
---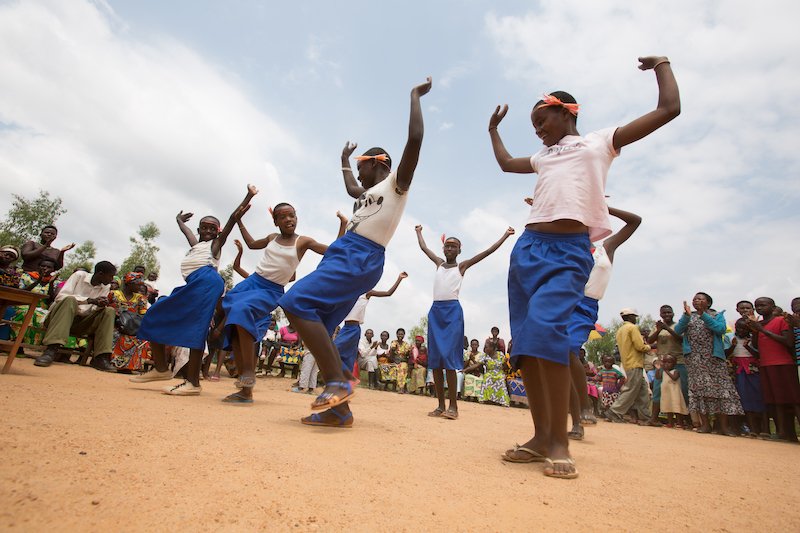 Our partners had to adapt their programming quickly for COVID-19, halting some group-centered activities in favor of spreading information for proper life-saving hygiene practices. They went door-to-door with soap and sanitation supplies, broadcasted safety protocols in local languages, and set up public sanitizing stations. WASH solutions became more relevant than ever before, and our partners found ways to ensure that their beneficiaries were receiving the services they needed.
Hygiene and Sanitation Facilities Established:
2018: 9,246 2019: 6,376 2020: 10,187
These are things like hand washing stations and latrines that were not previously available for people, but now provide an essential service. These help ensure water points can stay clean, people can maintain hygiene practices that will keep them and their families healthy, and save lives from water-borne illness and diseases like COVID-19.
Individuals Reached with Clean Water
2018: 19,381 2019: 12,755 2020: 11,449
Water usable daily for a family within walking distance of their homes. On average in sub-Saharan Africa, someone in the family would have had to travel over half an hour for water which may be contaminated and cause unnecessary illness that can have seriously damaging consequences.
Individuals Trained in WASH
2018: 103,496 2019: 65,651 2020: 708,300
People directly taught or informed in life-saving sanitation and hygiene practices that will both keep their water point clean and ensure that they will not be contracting completely preventable diseases. This does not, however, represent the immeasurable number of people who heard this vital information from these newly trained individuals!
---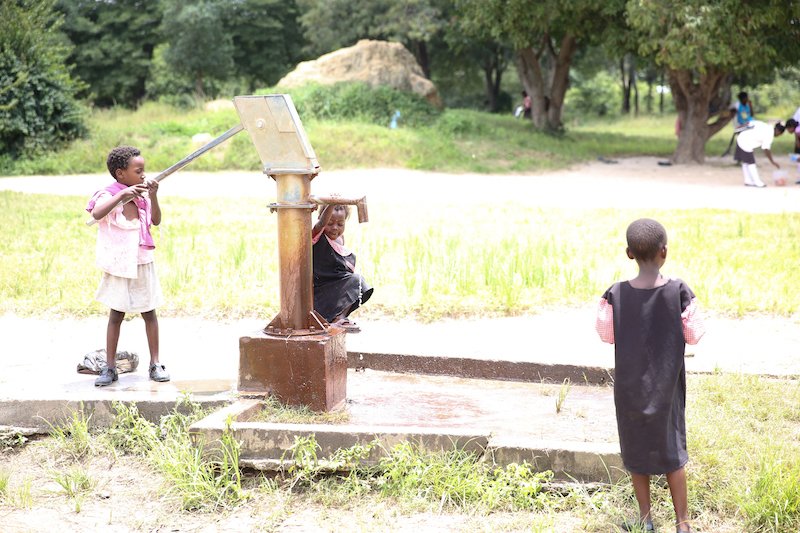 Quotes from our beneficiaries:
"If our fore-parents who died some decades ago could see our village now, they would be in disbelief. For Chikalema to have a well to draw drinking water from rather than the unclean rivers is hard to believe. Now that we have a well, I am very confident that the community will take care of it since it is the only good source of clean and safe water… This well will save lives in my village."
– Village Headwoman of Chikalema Village in Neno, Malawi
"There has not been access to clean water for all the years I've lived in Bbuye village, and latrines are few. None have hand washing facilities… We have a high number of people suffering from typhoid, diarrheal diseases, and other waterborne illnesses all the time… To our surprise, they were the first organization that came to our rescue with hand washing facilities for the homes of the elderly and those affected with HIV/AIDS!"
– Jonah, 36-year-old father of five, in Mityana, Uganda
"God must have listened to our prayers. He must have noticed all the suffering that our mothers, women, and daughters have been through just to fetch safe water from rivers and all the pains and losses we have had because of waterborne diseases… Oh! You guys must have come down from the heavens!"
– Abel from Ethiopia
---
To read our full program profile, called Partnerships for Water, Sanitation, and Hygiene (WASH) Solutions to Sustainably Save and Change Lives, you can check out the link here.
Join Us in Thanking Classy and Our Partners
"The Classy Awards began in 2009 to shine a spotlight on outstanding programs run by social impact organizations around the world," says Pat Walsh, Classy co-founder. "Each and every day we are humbled by the hard work and tenacity of our nonprofit customers, and the Classy Awards serve as our way to honor the sector we serve. Congratulations to Blood:Water who joins a prestigious group of 2021 Classy Award Winners who are embracing new ideas and solving today's toughest challenges."
You can see ours and the other winners' reactions to hearing we had won in this video:
You can check out the other Classy Award winners here, and the finalists here. We also submitted two other programs for consideration on our other mission focuses on HIV/AIDS and capacity building, and our profiles for them give a great look into why we do what we do and how our partners have done this work over the years. So we send our thanks to Classy for their consideration and recognition, and to our partners for doing the work every single day to change lives in their communities.
We're Proud to be a part of Catalyst 2030 We've recently joined Catalyst 2030 to support their Africa Forward goals that so closely align with our own mission, vision and values. The regional goals for Africa…
Written by Dan Haseltine Since 2000, 1.8 billion people have gained access to basic drinking water services, however more than two billion continue to lack safely managed services. Our work partnering with community-based organizations in…